Can Exercise Help Your Arthritic Elderly Loved One?
Elderly Care in Alexandria VA
One of the treatment plans that your loved one's doctor might recommend if she struggles with arthritis is to exercise. But if she's never exercised or if she fears it will cause her more pain, your loved one might resist this idea. The fact is, exercising can give your loved one some huge benefits in the battle against arthritis.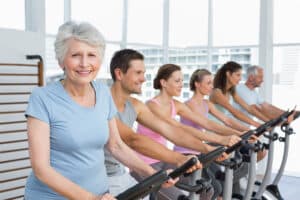 Strengthens Her Body
Exercise works your loved one's muscles, definitely, but it also helps to keep her bones, tendons, and joints in good working order. When your loved one's joints are feeling stiff and aren't functioning well, exercise can help to loosen them up again. Regular exercise is best for this, but it's important for your loved one not to overdo it or to exercise when she really isn't up for it.
Helps Her Lose Weight
If your elderly loved one is holding onto even a tiny amount of extra weight, which can really impact your loved one's battle with arthritis. Getting into a regular exercise routine helps your loved one's body to shed excess weight a little bit more easily. Even if she doesn't lose that weight quickly, she's strengthening her body at the same time.
Boosts Her Energy
As your elderly loved one becomes more involved with her new exercise plan, she may be surprised to find herself enjoying a boost in her energy levels. The body releases endorphins during and after exercise, which can also help with mood and energy. Regular exercise can help your loved one to maintain those benefits to her energy and mood levels.
Can Improve Her Overall Quality of Life
Because your loved one sticks to her exercise plan, she may find that her overall quality of life seems to become much better. This isn't a coincidence, since your loved one's improved strength, energy levels, and overall health contribute greatly to how your loved one might measure her quality of life. Skipping a day or two of exercise may not have much of an effect, but if your loved one goes longer than that, she may find that she starts to feel fewer of the good results she's collected.
Once you develop an exercise plan for your elderly loved one, enlist the help of other people. Other family members and your loved one's elderly care providers can all help.
If you or an aging loved one are considering elderly care in Alexandria, VA, contact the caring staff at Access Home Care Inc. Proudly Serving Northern Virginia and Surroundings for over 12 years. Call Us: (703) 765-9350

Latest posts by Anna Mensah-Nti, RN, BSN, Founder
(see all)