How to Convince Dad to Stop Driving
Senior Care in Mount Vernon VA
Your father is still driving. You know he's not safe at home as a senior, but he doesn't seem to want to listen to anything you have to say. Yet, he's still getting behind the wheel, still driving, and having too many close calls.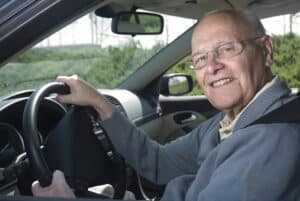 He hasn't been involved in an accident just yet, so the authorities have not become involved. You are worried, not just about his safety, but about the safety of anyone else who happens to be on the road at the time he is. Is there any way you can convince him to stop driving?
Determine if he is a true risk.
You might be worried about him, but does that mean he is an absolute risk when behind the wheel? Maybe he drives slow. Has he really gotten involved in close calls? Have you been with him or are you making assumptions because you've seen how he backs out of the driveway?
It's important for everyone on the roads to be safe, but your father may not be the kind of risk you think he is or assume he is. If he truly is a risk, then you need to step in to keep him safer, not just at home, but out and about.
You may need to talk to DMV.
The Department of Motor Vehicles, or DMV, is responsible for providing licensure for people to drive. If you have any concerns about him, you should speak to somebody at the DMV. In many states, they require seniors over a certain age to take an eye exam and general driving safety assessment every year or every other year.
Your father may have passed his most recent exam, but if you have serious concerns, they may be able to take other steps. Remember, driving a car is not protected by the Constitution; it's a privilege.
Do you have any evidence of safety issues?
Before you speak to somebody at the DMV or other authorities, and perhaps before you sit down to talk to him about this situation, determine if you have any evidence of safety risks. If you don't have any evidence, how can you know for sure you're correct in this assessment?
Ask about any concerns he may have.
Does he feel unsafe behind the wheel? You might assume he has no interest in giving up his license to drive, but he might be just as nervous as you feel. He just might not know there are other options, including getting a ride from friends or other family members, or hiring a home care aide to assist him on a daily basis.
If you or an aging loved one are considering senior care in Mount Vernon, VA, contact the caring staff at Access Home Care Inc. Proudly Serving Northern Virginia and Surroundings for over 12 years. Call Us: (703) 765-9350

Latest posts by Anna Mensah-Nti, RN, BSN, Founder
(see all)